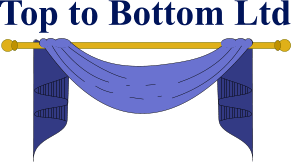 Hand-sewn blinds - over 20 years experience
Our roman blinds are hand sewn by seamstresses with over 20 years experience. All our roman blinds are made in-house to the highest level of of workmanship with personal care and attention paid to every blind order. Every fabric that you see on our site is available to be created into roman blinds. We offer a selection of options to ensure your curtains are made for you.
Our roman blind system is easy to use and provides an instant price with your chosen options. You can customise:
Fabric design
Colour
Lining style
Control side
Cord end
Head rail
View our entire roman blind range
Elegance and Privacy
Top to Bottom Ltd are proud to bring you our natural wood venetian blinds by SLX (Styleline Express). Wooden venetian blinds compliment any furnishing style bringing elegance, privacy and light control to contempory, classical and traditional settings and blend harmoniously with other window treatments and furnishing.